There might be affiliate links on this page, which means we get a small commission on anything you buy. As an Amazon Associate, we earn from qualifying purchases. Click here to 
learn more
.
---
Learn to reframe negative emotions to safeguard your personal boundaries with How to Stay Grounded in Troubled Times by Karla McLaren, an in-depth online course that helps you uncover what your emotions are telling you so you can effectively manage them and build emotional resilience.
Most of us often think of negative emotions as enemies. That's why we try so hard to repress them in favor of more positive ones. However, how to stay grounded in troubled times?
Unfortunately, not knowing how to recognize and manage our feelings can often lead us to sabotage our self-awareness and emotional resilience. For example, I was once overwhelmed by my intense feelings, both positive and negative, because I lacked the knowledge to listen to them.
I had a tough time managing my reactions, and I often responded negatively, hurting my loved ones and others around me. In short, I was always in a state of emotional distress. Fortunately, everything changed when I come across How to Stay Grounded in Troubled Times by Karla McLaren.
Karla McLaren is an emotional genius who guided me in dealing with my negative feelings, especially during tense and stressful situations. Her teachings were a big help in my emotional and personal transformation.
With that said, read on as I share more details about this unique and groundbreaking approach that has helped me positively transform my response to negative emotions.
---
What Is How to Stay Grounded in Troubled Times?
This is an online course by Karla McLaren, a groundbreaking healing genius who guides you in learning and developing the necessary emotional management and resilience skills.
This course is divided into five easy-to-understand training sessions in video formats:
Learn about your emotions and connect with their powerful guidance and message.
Discover the purpose of your anxiety and learn techniques to manage this overwhelming emotion.
Lovingly work with your panic and heal past traumatic events.
Transform negative emotions from liabilities into advantages.
Work with your apathy to unmask anger and depression and find and solve what may be wrong with your life.
With the help of this web-based course, you'll learn groundbreaking methods to understand what your feelings are telling you and develop practical ways to manage and successfully battle life's highs and lows.
Who Is Karla McLaren?
Karla McLaren is an author, a sociology academic, and an emotional resilience expert. As an emotional healing genius, she is the perfect teacher for anyone to understand and manage their emotions.
Using her background as an empathy and emotions pioneer, Karla McLaren has established techniques and valuable information on using your emotions as a natural language. Her empathetic approach reevaluates unpleasant emotions, thereby opening a new path to self-awareness and effective communication.
In fact, her work reflects the means she has coped and triumphed over her struggles and trauma. She has once dealt with damaging emotions, but she used them for her progress and transformation instead of being defeated. She has also written several renowned books on empathy and dealing with difficult emotions.
What You'll Learn from How to Stay Grounded in Troubled Times by Karla McLaren?
How to Stay Grounded in Troubled Times by Karla McLaren teaches the mastery of how to grow, enhance and boost emotional resilience. This online training is a fantastic way to tame and guide anxiety, panic, uncontrolled anger, and indifference.
Here, you'll learn to reframe negative feelings and protect your well-being by learning how to establish personal boundaries. You'll also start seeing the deeper purpose of those sentiments on your overall emotional well-being.
Furthermore, you have access to tools needed for instant relief from anxiety and panic. After finishing the course, I felt empowered to safely and lovingly work on my repressed and uncomfortable reactions.
Moreover, I have overcome feeling overwhelmed, and I saw the purpose and meaning behind my often-neglected and avoided emotions.
---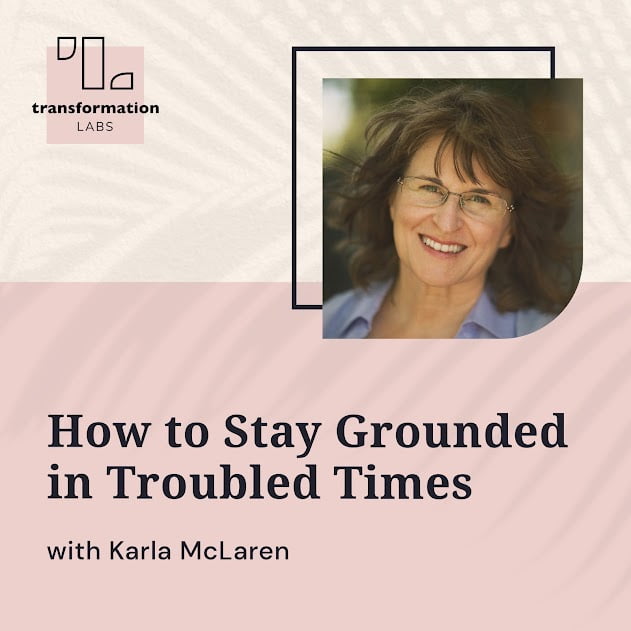 ---
What Will You Get Inside How to Stay Grounded in Troubled Times by Karla McLaren?
Here's everything you'll receive when you enroll:
Gain a Lifetime Access to 5 Step-by-Step Video Sessions
Hands-on Guidance from a Leading Expert and Teacher
Additional Course Materials and Transcripts
Who Is the "How to Stay Grounded in Troubled Times by Karla McLaren" For?
This is an excellent material for people who want to acquire and develop emotional fortitude and find guidance on managing their anger, panic, apathy, and anxiety.
How to Stay Grounded in Troubled Times is also great for people who have a hard time controlling their intense feelings.
With this course, you'll learn how to shift anger and use it to reestablish fragmented relationships by providing much-needed clarity with your thoughts and the people you deal with.
Suppose you want to study and practice the ways to reevaluate your feelings and become more intentional in managing your anger and setting your boundaries to promote your mental well-being. In that case, this course is perfect for you!
How Much is How to Stay Grounded in Troubled Times by Karla McLaren?
This life-changing course is currently being offered for only $79. This is an excellent opportunity to learn and develop emotional fortitude from someone who is an expert and a pioneer in empathy and emotions.
Additionally, this is a 100% satisfaction guarantee and is a no-risk investment. So, if for any reason you're not satisfied, you can return the course within a year from purchase and get a refund.
Frequently Asked Questions
Can I Buy the Course Over the Phone Instead of Ordering it Online?
Yes, you can order and pay for the course over the phone if you're not comfortable doing it over the internet.
You can call our toll-free number at 1-888-303-9185, Monday-Friday Mountain Standard Time. If you are calling outside the US or Canada, you can reach us at 303-665-3151.
Can I Download the Course on My Mobile Device?
Android users can directly download the files on their mobile devices. For Apple and other devices, you can download the file on your computer and transfer it to your iPhone through iTunes or USB connection.
Do I Recommend How to Stay Grounded in Troubled Times?
Yes, I highly recommend How to Stay Grounded in Troubled Times for those having a hard time dealing with their emotional responses.
This course can be a big help if you are looking for ways to manage and listen to your emotions and use them to better yourself and your overall disposition.
Suppose you're looking for an impactful way to show your true self to the world and a practical path for personal transformation. In that case, this course can guide you in your journey to embracing the knowledge and understanding of yourself.
Personally, this course has been a big help to uncover my gifts of empathy. In addition, through this course, I was able to establish and maintain my healthy detachment, positive well-being, and purpose.
Best Way to Purchase How to Stay Grounded in Troubled Times by Karla McLaren?
If you want to know the complexities of your emotion, learn to manage them, and succeed in becoming an emotionally strong individual, you can follow this link to get the best deal.
So, discover the incredible gifts of your emotions and transform your life and enroll today!
---
READ NEXT: