There might be affiliate links on this page, which means we get a small commission on anything you buy. As an Amazon Associate, we earn from qualifying purchases. Click here to learn more.
---
As a young adult, I'm constantly figuring out ways to make helpful habits in my life. I was able to make substantial progress in having better habits after taking the 40 days to positive change. Backed with science, Dr. McGonigal helped me learn how to deal with the multifaceted nature of habit changing.
When the pandemic started, I was lucky enough to be allowed for a work-from-home setup. I felt that I finally had more time to focus on myself. However, I still found it difficult to pursue the lifestyle I always wanted despite the free time I had. I knew something wasn't working, but I got frustrated not knowing how to approach it.
That's when I come across Dr. McGonigal's 40 Days to Positive Change after trying to research my concern.
Honestly, I wasn't a fan of online coaching setups because I always say "there's free stuff on the Internet". But at that point, I was open to trying a different approach with the hopes of making life adjustments and the program felt just right for me.
Short daily lessons and personalized guidance are the right fit for my learning style, that's why I gave it a try. I completed the sessions recently and I want to share my personal experience and how her course impacted my life.
---
What is 40 Days to Positive Change?
The 40 days to Positive Change is an audio teaching program to help you cultivate healthy habits in your life. I've gone through the 40-day journey where I received various support, from teaching materials to personalized coaching, that helped me make the life development I wanted. Because of its setup, I was able to listen to the lessons while doing something else.
Who is Dr. Kelly McGonigal?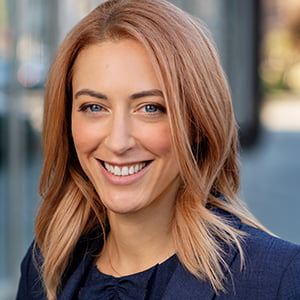 Dr. Kelly McGonigal is a health psychologist and a lecturer from Stanford University. I listened to her TED talk on Youtube about handling stress, which I found very helpful.
She also has published books about self-control, the science of thinking, and how to deal with stress.
I really like that Dr. McGonigal backs her method and advice with science. It helped me have a deeper understanding of how my mind works.
What You Will Learn From 40 Days to Positive Change by Dr. Kelly McGonigal?
Going through the audios, I had many realizations about how I used to live my life. I used to be more grounded with reality, but in a way, I tend to subtly neglect the good side of my life. After each session, I became more appreciative of my life.
I found it interesting that I was able to challenge my old way of thinking. Her approach helped me realized the small things that affect our mentality and how it affects the bigger picture. The program focuses on positivity while remaining realistic in the approach.
I also like that there's an acknowledgment of the slow and steady progress. Changes in your habits don't happen in a short time. Dr. McGonigal gives emphasis on growing a relationship with yourself and others.
Ready to Start with the 40 Days to Positive Change Course?
---
What Will You Get Inside 40 Days to Positive Change by Dr. Kelly McGonigal?
The course mainly offers audio teaching sessions over 40 days, but there's lifetime access to the audio. There are also supplemental materials provided so you can have a variety of resources you can refer to. What I like the most are the practical exercises where Dr. McGonigal guides you throughout the process. There's also a one-year money-back guarantee whenever you feel that the course isn't the right fit for you.
Who is the "40 Days to Positive Change by Dr. Kelly McGonigal" For?
Personally, I think the 40 Days to Positive Change is perfect for people who are trying to figure out themselves. If you want to develop a good relationship with yourself, then this course is for you. You can have a look at the overview of the program here.
When I first looked at the overview, I noticed the importance given to developing interpersonal relationships. Given the social isolation I've experienced, it helped me realized how helpful it is to get in touch with others.
How Much is 40 Days to Positive Change by Dr. Kelly McGonigal?
It is currently discounted at $79.00, originally at $147.00. There's a one-year money-back guarantee in case you change your mind. Personally, I think it's a great price for such a comprehensive program from an expert.
---
Frequently Asked Questions
What should I expect to learn from the program?
The program focuses on cultivating healthy and helpful habits in your life. The program tackles the behavior you attach with the habits and make sustainable progress.
What is the format for the teaching sessions?
The program is done through audio teaching sessions in the span of 40 days. There are guided practices to put your learnings into practice. I also got access to the previous Q & A sessions of Dr. McGonigal and another 2 bonus audio programs.
How do I know if it's a good fit for me?
If you're trying to stick to a new habit, this program is a big help. There's also a free session that you can sign up for and it lasts for an hour.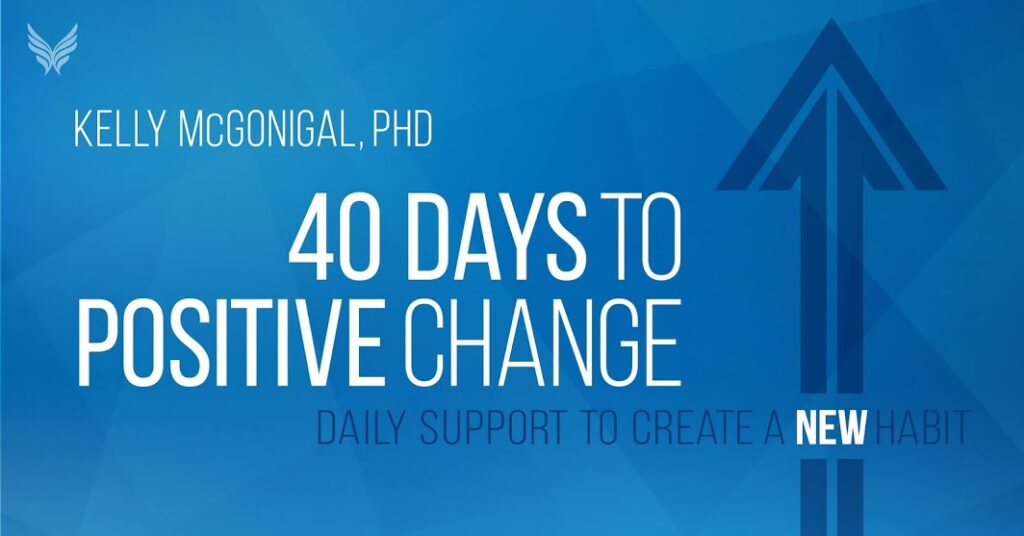 Do I Recommend 40 Days to Positive Change?
I definitely recommend the program to anyone who is looking for a guided self-growth. No one is old enough to shift their mindset and mentality that will better your life. Also, I learned many profound insights from Dr. McGonigal that are scientifically backed.
Best Way to Purchase 40 Days to Positive Change by Dr. Kelly McGonigal
The program currently costs $79.00 from the original price of $147.00. The special offer can be purchased by clicking on the button below! There's also a free teaching session that you can sign up for if you want to have a brief experience with the program first.
There are two bonus audio files that you can download whenever you enroll. The audio programs concentrate on the scientific implications of meditation and compassion. If you're further interested in the program, you can enroll and see details here.
---
READ NEXT: